NIKE AIR MAX 95 is one of the most iconic and sought after sneakers of all time. Twenty years on from ITS original launch, the 'Air Max 95 Collectables' marks the re-release of this all-time favourite shoe with a throwback to 1995 in Hong Kong. Tapping into the mid-90's craze of collecting exclusive trading cards and limited edition sneakers, local artists created a specially designed series of collectable cards showcasing the AIR MAX 95 range, inspired by this buzzing city through the years, making these sneakers more collectable than ever before. The collection also includes a number of limited edition holographic cards, which allow holders to gain exclusive access to limited edition AIR MAX 95s, and the ultra rare metallic NIKE iD card gives lucky winners the chance to customise their very own pair of AIR MAX 95. Just like in 1995, the cards are available from the original vending machines BUT refurbished, to take Air Max 95 fans back in time to mark its 20th anniversary.
Agency: Ogilvy & Mather Hong Kong
Chief Creative Officer: Reed Collins
Creative Director: John Koay
Art Directors: John Koay, Elaine Li
Illustrators: Simon Koay, Kristopher Ho, Brainrental, John Koay, Elaine Li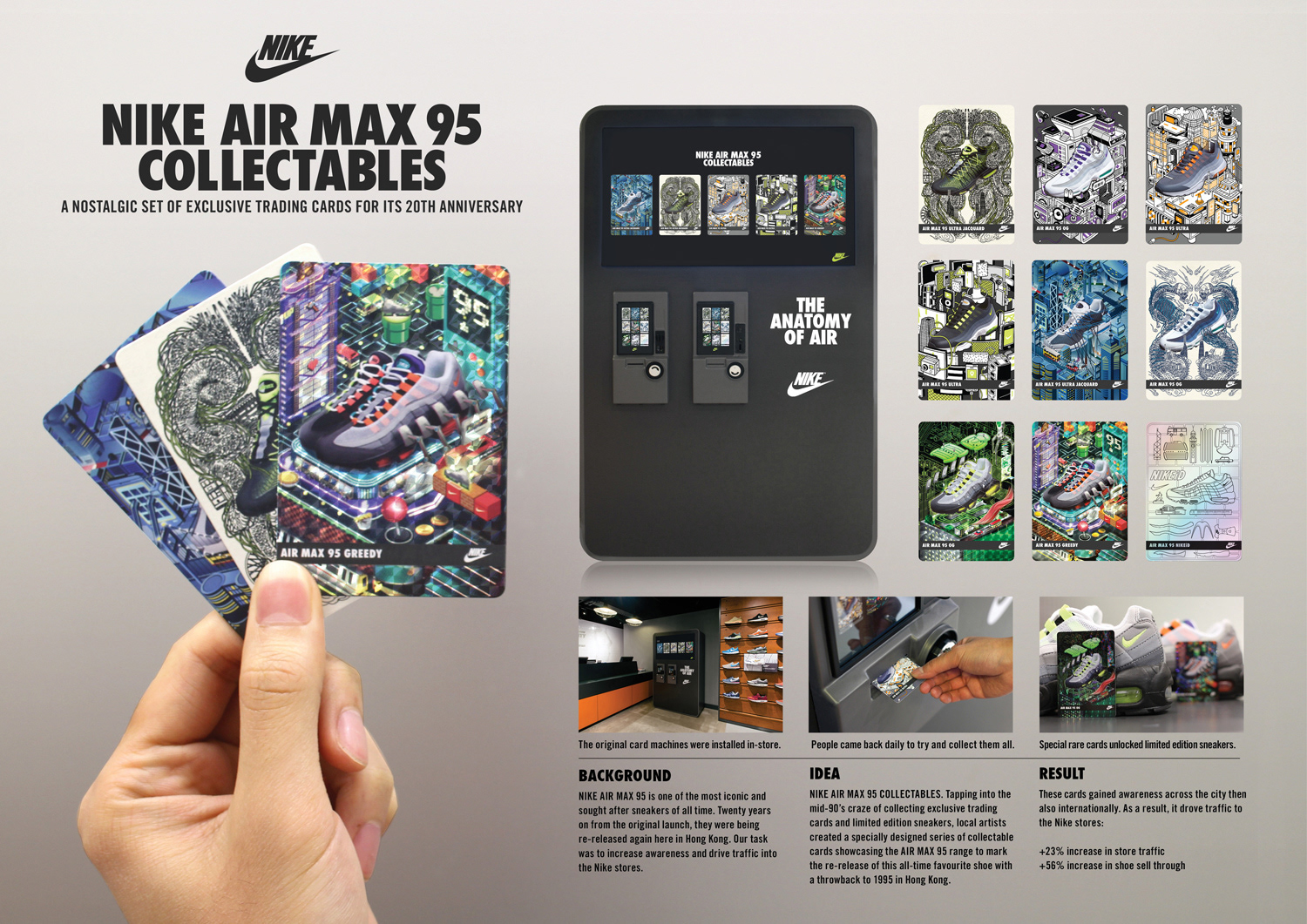 Each card was illustrated by local artists reflecting Hong Kong back in 1995 and 2015. Each innovative feature of the sneaker integrated with the city's environment.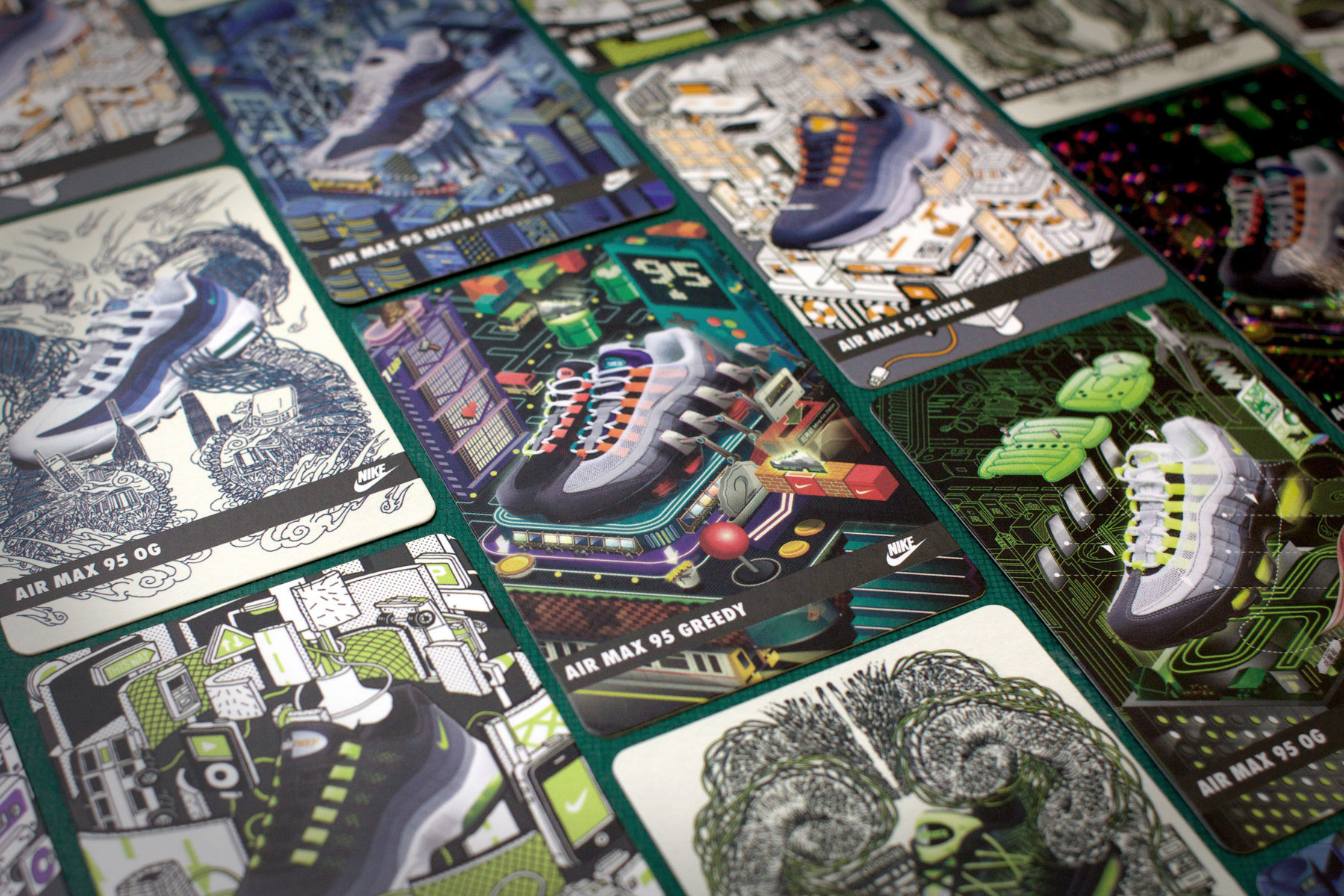 The artists were inspired by different parts of Hong Kong's culture: Architecture, technology, food, entertainment, digital, music, art, transportation and gaming.
The cards were available from the original 90's vending machines, refurbished, in store.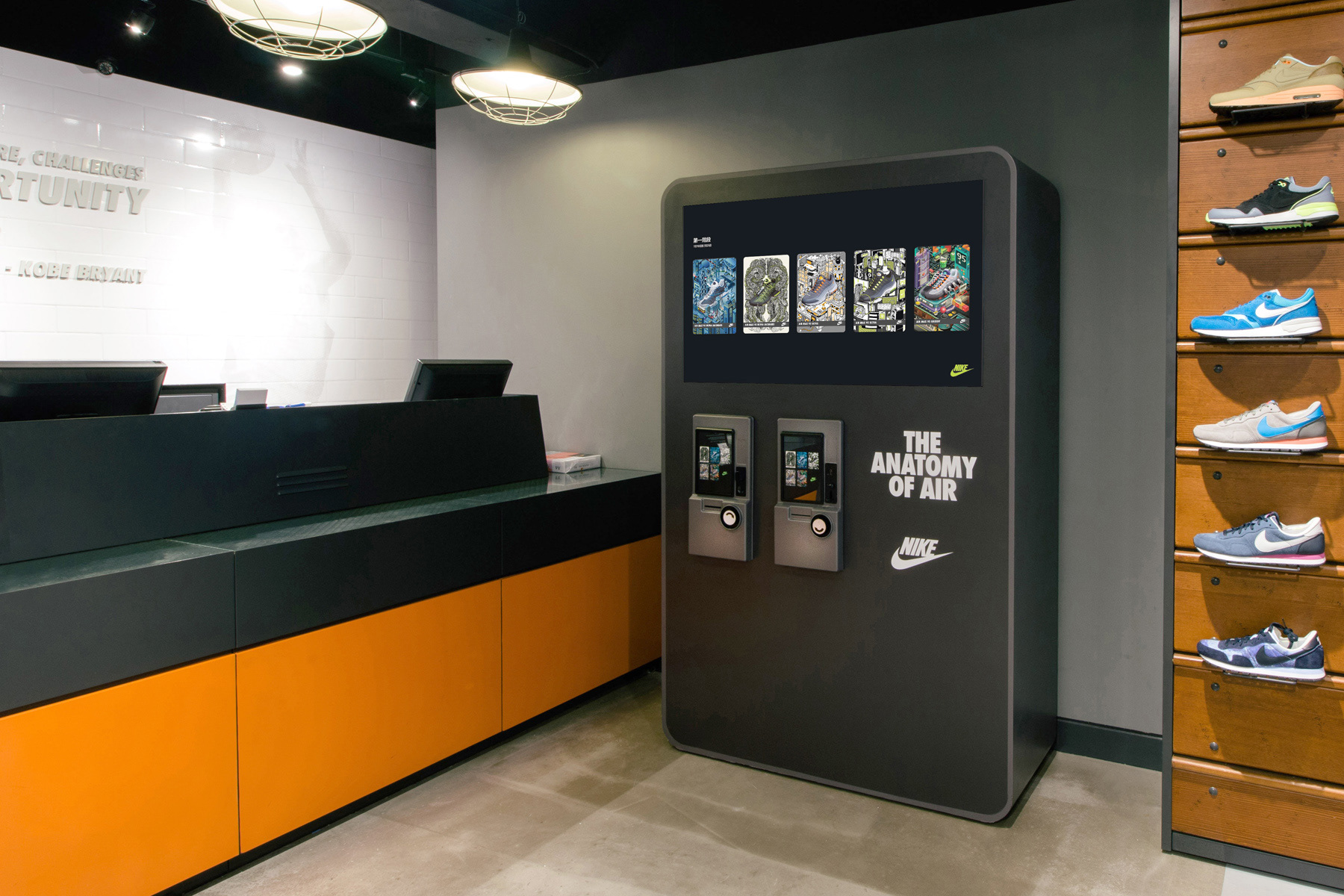 Just like the old days, coins were put in to activate the machine.
After that, people turned the knob to claim their card.
With a variety of designs in the set, people came back repeatedly to collect all of their favorite sneakers as cards.
Lucky winners who got the special hologram edition of the 'Air Max 95 OG Neon' card gained them special access to this limited edition shoe, which people usually have to line up for hours outside shops.
Lucky winners who got the special hologram edition of the 'Air Max 95 Greedy' card allowed them special
 access to this limited edition shoe, thatmis one of the most sought after shoe of this anniversary release.
Lucky winners who got the ultra rare metallic hologram Nike iD card were able to design and customise their very own pair of Air Max 95.
News of these cards are spreading fast and fans are returning to the stores daily to collect them all.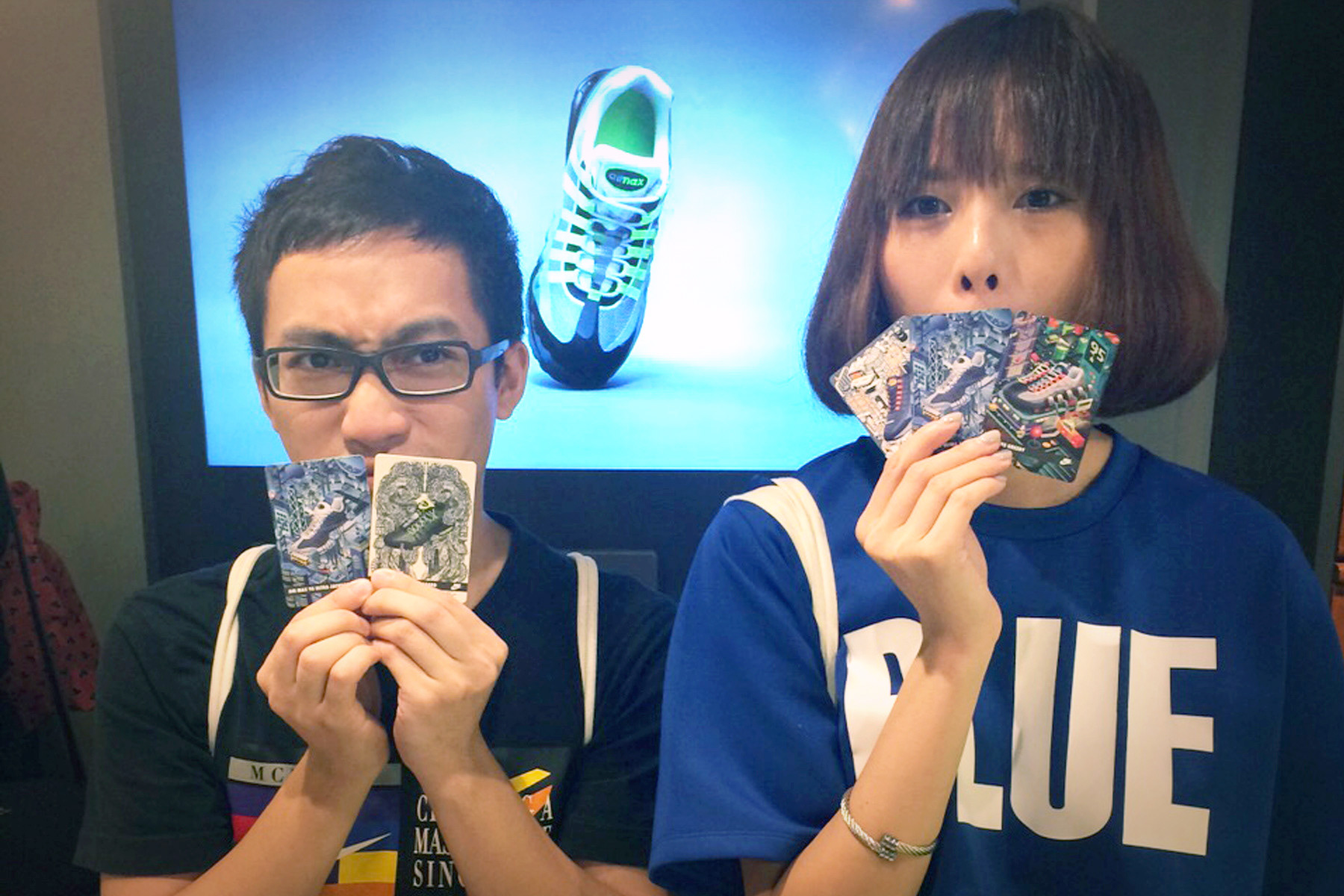 People even started trading in store with other fans to collect the whole set.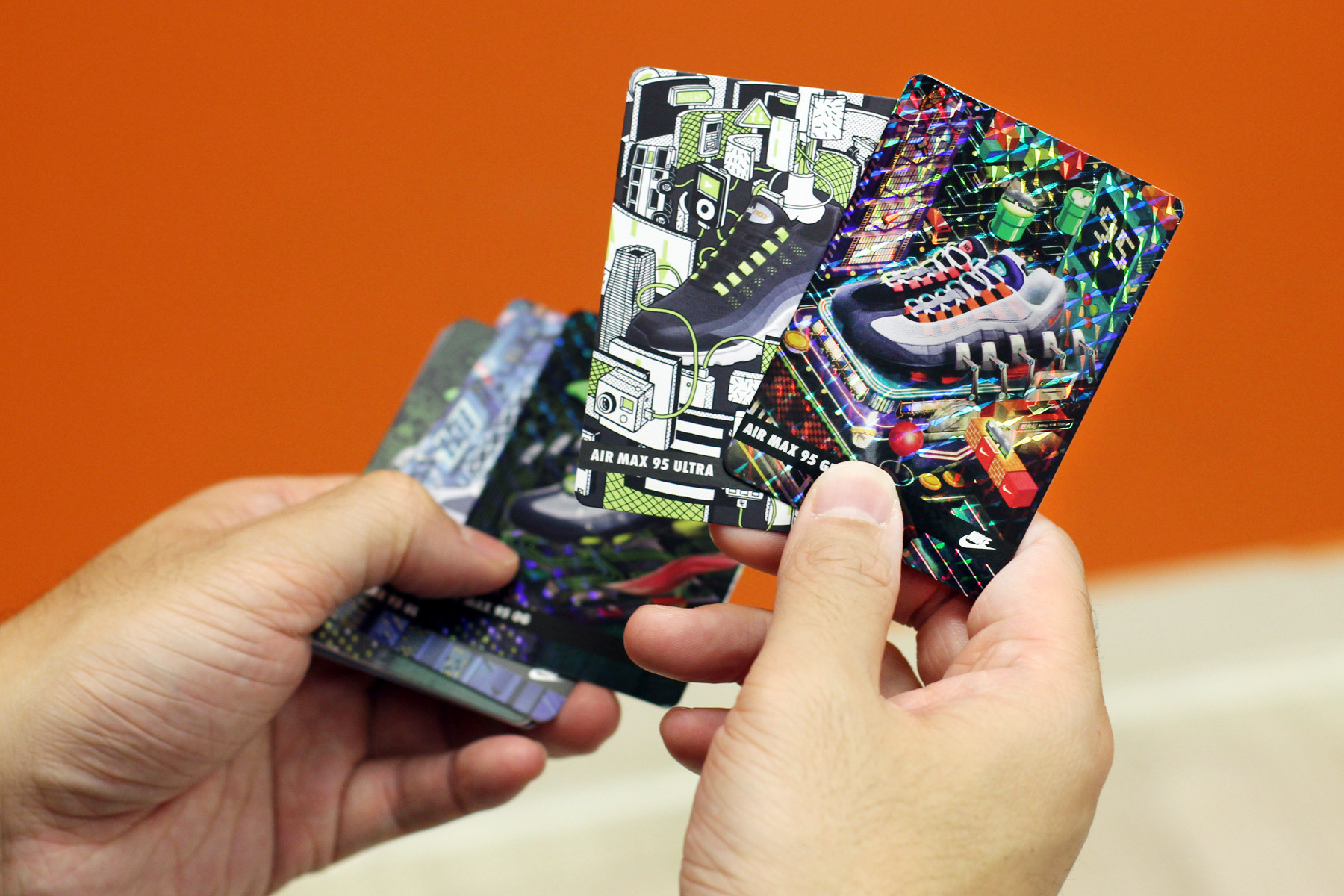 Collect them all! Campaign is still live till Aug 16, at KicksLounge in Harbour City, Tsim Sha Tsui or Nike store in Percival St, Causeway Bay, Hong Kong.