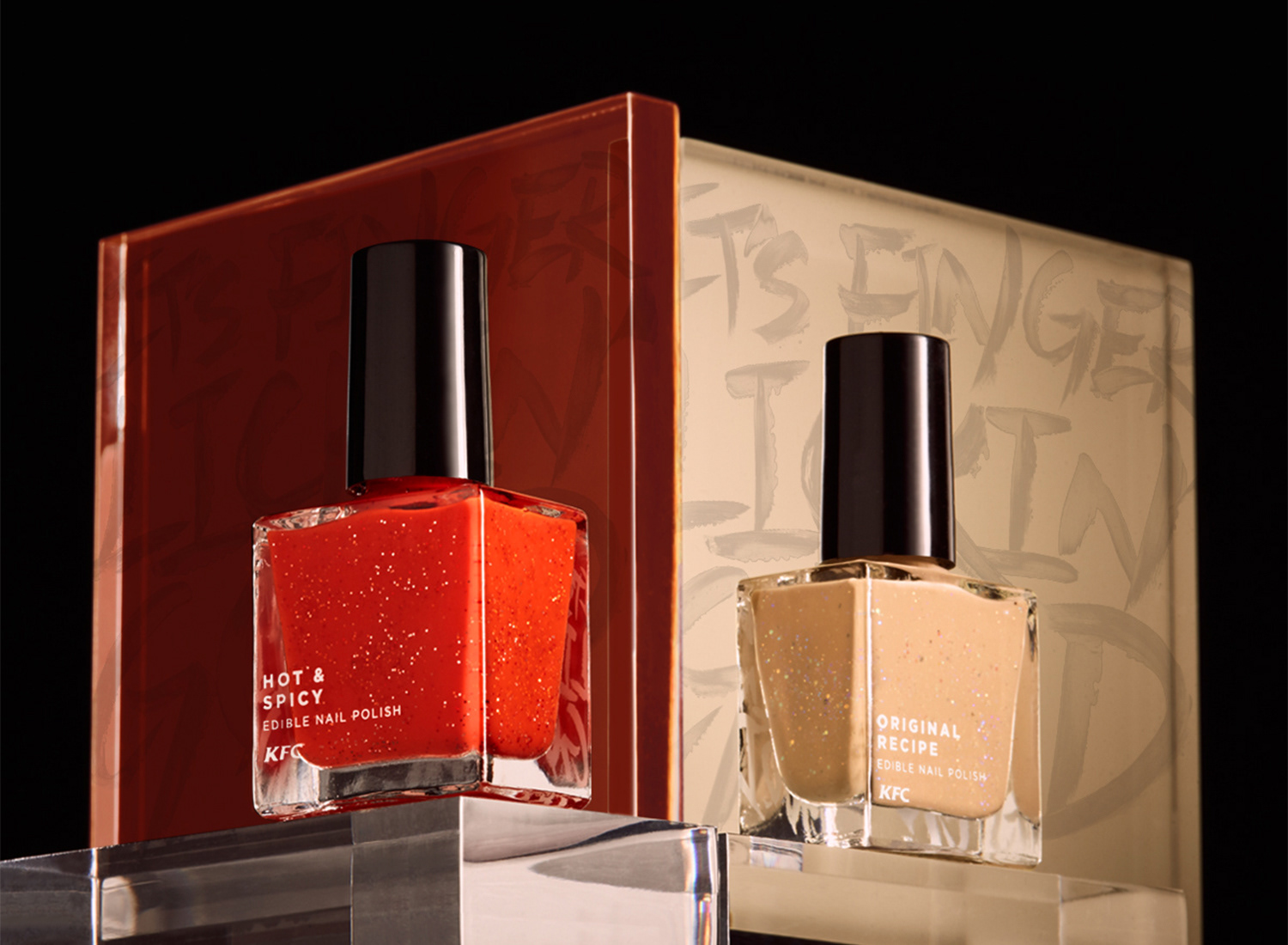 KFC FINGER LICKIN' GOOD EDIBLE NAIL POLISH, who wants one?
Visit facebook/kfchk for more details.
'It's Finger Lickin' Good' is well known slogan around the world, but it's still a foreign line amongst Hong Kong consumers. It's a line that stands for the innovation and great times of KFC. To create awareness around our brand we collaborated with food technologists McCormicks, maker of the Colonel's 11 secret herbs and spices and created

 'KFC Finger Lickin' Good Edible Nail Polish'

 in two signature flavours: Original Recipe and Hot & Spicy. These have been carefully formulated from natural ingredients into edible nail polish and packaged in a contemporary glass bottle and minimal box with hand painted typography and printed on using over gloss inks. Simply apply and dry like regular nail polish and then lick to taste why the world's favourite chicken is Finger Lickin' Good. We launched this firstly through social media then revealed this product innovation at an exclusive tasting launch event complete with food and fashion bloggers and celebrities who shared this through their own channels. Soon, talk of Finger Lickin' Good went around the world and got people talking about our brand.
Customers who are hungrily awaiting these nail polishes should visit KFC Hong Kong's Facebook page

www.facebook.com/KFCHK

to vote for which flavour they want to taste first using  

#kfcnailpolish

Credits:
Agency: Ogilvy & Mather Group Hong Kong
Chief Creative Officer: Reed Collins
Creative Directors: John Koay, Matt Nisbet
Art Directors: John Koay, Elaine Li
Film Director: Helen Clemens
Design Creative Director: Andy Reynolds